How to Ride Comfortably in Winter?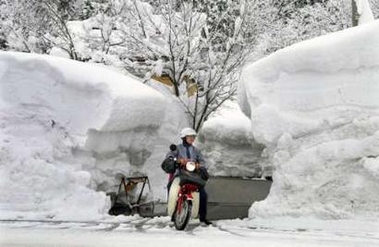 When winter shows it's ugly side, most people bundle-up, settle-in and write-off this time of the year as "not great for riding."
Admittedly, this is one of the most difficult seasons for motorcycle riders. It's not easy to drive a motorcycle on the snow and the cold weather makes riding uncomfortable. In the winter, riding is very different. You are exposed to the harsh weather, traction suffers, other drivers can be complete nuts.
How can you make riding during this time of the year comfortable and safe?  Well, you can start with good protection.
What are the best winter clothes for motorcycle riders?
One of the primary concerns of riders during the winter season is how to protect their body against the cold, chilly and biting wind or snow. Even seasoned riders will admit that riding during the winter season is really hard and uncomfortable. However, this is not reason enough for you to stop riding.
First, a true rider does not shrink from a challenge.
Second, there are times that you can't avoid riding your bike even if it snows.
Third, there are winter clothes you can use which can make riding in the snow bearable, safe and comfortable.
Here are some of the winter clothes for motorcycle riders:
1. Waterproof motorcycle rain suit. Wearing a one piece or two piece motorcycle rain suits during winter season can provided added protection against the harsh weather. There are different kinds of motorcycle rain suits in the market but you need to choose wisely. Choose motorcycle rain suits with thermal inner lining to keep you warm despite the snow or rain.
2. Thermal undershirt or long sleeves. Wearing a thermal undershirt can keep you warm and comfortable. It will protect your body against the cold and will not allow wind, rain or snow to get through your skin. Choose a thermal undershirt that fits perfectly to your body. A bulky undershirt can be a problem while riding.
3. Jacket. A waterproof jacket (if you don't have a full riding suit) will not only keep you warm but will prevent you from getting soaked to the skin. The perfect motorcycle jacket is one made with breathable membrane, has front and back air vents and has a thermal lining to keep your body heat. It must be made from thick leather and waterproof.
4. Water Resistant Motorcycle Pants. Motorcycle rain pants or trousers can keep the lower part of your body warm and dry. There is no use wearing a water resistant jacket when you can't protect the lowers part of your body from freezing from the cold.
5. Waterproof boots and gloves. To fully protect your body against the cold during the winter season cover your feet and hands with waterproof boots and gloves. Remember that these parts of our body are as exposed to the cold also. Despite wearing a motorcycle rain suit, you'll still feel the cold if your hands and feet are not properly covered. Controlling your motorcycle is difficult if your fingers and toes are cold.
Proper clothing is very important in order to ride safely not only during the winter season but at all times. Listed above are the essential winter clothes motorcycle riders should use.